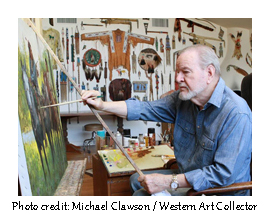 Howard Terpning



Howard Terpning is one of the most lauded painters of Western art. Over his lifetime he's received the highest awards in the field, including the National Academy of Western Art's Prix de West, the Hubbard Art Award for Excellence, the Lifetime Achievement Award from the Autry National Center, and 2005 Masters of the American West Thomas Moran Memorial Award and countless others. He's an Emeritus member of the Cowboy Artists of America with over forty-one awards from that organization alone. Quite simply, he's a living master of Western art.

Born in Illinois and educated at the Chicago Academy of Fine Arts and the American Academy of Art, Terpning first gained attention with his dramatic movie illustrations for such classic films as The Sound of Music, Dr. Zhivago and the re-issue of Gone with the Wind. His love of the West and Native American traditions guided his direction as he pursued a fine art career. "The American Indian fascinates me," says Terpning. "The more I study them, the more intrigued I become. There's always another story waiting to be told."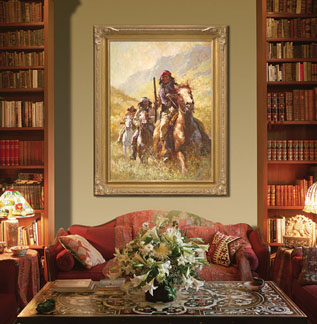 Items from Terpning's own extensive collection of Indian artifacts often appear in his paintings. His historical accuracy and technical prowess form the firm foundation for his style, earning respect from fellow artists, collectors and the native peoples he depicts.
Original Howard Terpning oil paintings now command top prices at Western auctions. Search for the Renegades, an oil from 1981, recently sold for $1.5 million dollars. Limited edition giclees and lithographs by Terpning often sell out at the publisher as soon as they're released.
"I think it's important to tell the story of the Plains Indians because their history is our history…part of our heritage," says the artist. "I feel privileged to be one of their storytellers."



View New Releases, Limited Editions, Rare Pieces
---
New Releases
Click on an image to see pricing, size and description of art.
---
Limited Editions
Click on an image to see pricing, size and description of art.

A Friendly Game at Rendezvous- 1832
$ 1,950.00

Army Regulations
$ 235.00

Calling the Buffalo
$ Multiple Options

Caution Born of Necessity
$ 395.00

Chased by the Devil
$ 995.00

Cheyenne Red Shield
$ 275.00

Council Mediator
$ 795.00

Coup Sticks and War Paint
$ 995.00

Crossing Below the Falls (Canvas)
$ 2,950.00

Crow Country
$ 1,450.00

Dust of Many Pony Soldiers (Canvas)
$ 2,300.00

Far Seeing Glass
$ 1,950.00

Flags on the Frontier
$ Multiple Options

Found on the Field of Battle
$ 1,250.00

Grandfather Prays to Sun
$ 1,950.00

Guarding the Lodge
$ 795.00

Hawk Feathers
$ 245.00

Healing Power of the Raven Bundle
Only 1 Left!
$ Multiple Options

Horse Doctor and his Medicine Bag at Rendezvous
$ 4,500.00

Light Cavalry
$ 225.00

Long Trail Ahead, The
$ 1,250.00

Medicine Horse Mask
$ 975.00

Medicine Shields of the Blackfoot
$ 750.00

New Doll for My Granddaughter
$ 1,250.00

Paper that Talks Two Ways, the Treaty Signing
$ Multiple Options

Seeking Guidance from the Great Spirit
$ 1,450.00

Shield of Her Husband (Canvas)
$ 1,150.00

Sign Along the Trail
$ 325.00

Signals in the Wind
$ 225.00

Sunset for the Comanche
$ 2,450.00

The Rivers Gift
$ 1,250.00

Three Generations
$ 975.00

Transfering the Medicine Shield (Canvas)
$ Multiple Options

Tribal Warfare
$ 345.00

Tribute to the Plains People
$ 2,950.00

War Stories
$ 225.00

Weather Dancer Dream, The
$ 225.00

Whiskey Smugglers
$ 895.00

White Man Fire Sticks
$ Multiple Options
---
Rare Pieces
Click on an image to see pricing, size and description of art.

A Watchful Eye
$ Call

Abandoned
$ Call

Among the Spirits of the Long-Ago People
$ Multiple Options

Apache Fire Makers
$ Call

Apache Scout
$ Call

Bear Tracks
$ Call

Before the Little Big Horn
$ Call

Blackfeet Among the Aspen
$ Call

Blackfeet Spectators
$ Call

Blackfoot Raiders
$ Call

Blessing from the Medicine Man
$ Call

Blood Man
$ Call

Bonnet Case, The
$ Call

Broken Trail
$ Call

Cache, The
$ Call

Camp at Cougars Den
$ Call

Captains Horse, The
$ Call

Capture of the Horse Bundle
$ Call

Captured From General Crooks Command
$ Call

Captured Ponies, The
$ Call

Change of Command
$ Call

Cheyenne at the Disappearing Creek
$ Call

Cheyenne Mother
$ Call

Chief Joseph Rides to Surrender
$ Call

Chief Joseph Rides to Surrender (Canvas)
$ Call

Color of Sun
$ Call

Color of Sun (Canvas)
$ Call

Comanche Spoilers
$ Call

Council of Chiefs
$ Call

Council Regalia
$ Call

Cree Finery
$ Call

Crossing at the Ford
$ Call

Crossing Below the Falls
$ Call

Crossing Medicine Lodge Creek
$ Call

Crow Camp 1864
$ Call

Crow Pipe Ceremony
$ Call

Crow Pipe Holder
$ Call

Crows in the Yellowstone
$ Call

Deeds of His Father by Howard Terpning
$ Call

Digging in at Sappa Creek
$ Call

Do Not Disturb
$ Call

Dust of Many Pony Soldier
$ Call

Family Home, The
$ Call

Field Headquarters
$ Call

Force of Nature Humbles All Men, The
$ Call

Four Sacred Drummers
$ Call

Gold Seekers to the Black Hills
$ Call

Grandfather Speaks
$ Call

Hard Trails Wore Out More Than Ponies
$ Call

High Country
$ Call

Holy Man of the Blackfoot
$ Call

Hope Springs Eternal- Ghost Dance
$ Call

Hope Springs Eternal-The Ghost Dance
$ Call

Horse Feathers
$ Call

Horse of a Different Color
$ Call

Isdzan Apache Woman
$ Call

Journey to the Medicine Wheel
$ Call

Last Buffalo
$ Call

Last Rays of Sun
$ Call

Leader of Men
$ Call

Legend of Geronimo
$ Multiple Options

Lonely Sentinel, The
$ Call

Long Shot, The
$ Call

Major North and the Pawnee Battalion
$ Call

Medicine Man of the Cheyenne
$ Call

Medicine Man of the Cheyenne
$ Call

Medicine Pipe
$ Call

Moving Day on the Flathead
$ Call

Mystery of the Underwater People
$ Call

Mystic Power of the War Shield
$ Call

Nectar of the Gods
$ Call

Offerings to Sun
$ Call

Offerings to the Little People
$ Call

Old Country Buffet - The Feast
$ Call

On the Edge of the World
$ Call

One Mans Castle
$ Call

Paints
$ Call

Passing into Womanhood
$ Call

Patient Provider
$ Call

Ploy, The
$ Call

Plunder from Sonora
$ Call

Prairie Knights
$ Call

Prairie Shade
$ Call

Preparing for the Sun Dance
$ Call

Pride of the Cheyenne
$ Call

Profile of Wisdom
$ Call

Prospectors Among the Blackfeet
$ Call

Protectors of the Cheyenne People
$ Call

Proud Men
$ Call

Running Eagle Falls
$ Call

Scouts of General Crook, The
$ Call

Scouts Report
$ Call

Search for the Pass
$ Call

Search for the Renegades
$ Call

Seeking Wisdom Through the Pipe
$ Call

Shaman and His Magic Feathers, The
$ Multiple Options

Sharpshooters Closing on the Herd
$ Call

Shepherd of the Plains
$ Call

Shield of Her Husband
$ Call

Shoshonis
$ Call

Signal, The
$ Call

Sioux Flag Carrier
$ Call

Small Comfort
$ Call

Soldier Hat
$ Call

Solitude
$ Call

Sound of a Distant Bugle
$ Call

Spectators, The
$ Call

Spirit of the Plains
$ Call

Spirit of the Rainmaker
$ Call

Staff Carrier
$ Call

Status Symbols
$ Call

Stones that Speak
$ Call

Storyteller, The
$ Call

Stragglers, The
$ Call

Strength of Eagles, The
$ Call

Sunday Best
$ Call

Talking Robe
$ Call

Teachings of My Grandmother, The
$ Call

Telling of the Legends
$ Call

Telling of the Legends
$ Call

Test of Courage
$ Call

The Honor of Being Pipe Carrier
$ Call

The Second Geronimo Campaign
$ Call

The Trackers
$ Call

They Came From Nowhere
$ Call

Thunder Speaks
$ Call

Thunderpipe and the Holy Man
$ Call

To Capture Enemy Horses
$ Call

Trading Post at Chadron Creek
$ Call

Trail Along the Backbone
$ Call

Trail in Bitterroots
$ Call

Transferring the Medicine Shield
$ Call

Trophy
$ Call

Vanishing Pony Tracks
$ Call

Victors, The
$ Call

War Chief
$ Call

Warning, The
$ Call

Watching the Column
$ Call

When Careless Spelled Disaster
$ Call

When Trails Turn Cold
$ Call

Where Spirits Dwell
$ Call

White Water Passage
$ Call

Winter Coat
$ Call

With Mother Earth
$ Call

Woman of the Sioux
$ Call

Yapping Dogs
$ Call