Phillip Anthony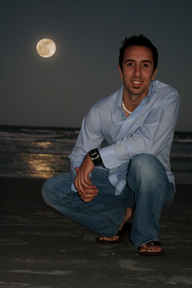 Monochromatic Reflectionism
Phillip Anthony's black and white seascapes invite the viewer to add the color of their own memories. The light from behind the dramatic clouds over the ocean—is it the full moon setting in a silver blue glow, or is it a tropical sunrise brilliant with cerulean and fuschia, just like the one you saw on your honeymoon? That is left for the viewer's response.
How did the artist arrive at this seemingly counterintuitive choice of palette? In his own words: "I've always loved black and white photography and sketching in pencil and pastels. There's something about a pencil sketch that holds a timeless classic look. I had begun painting in oils in color, and wanted to sketch a seascape in pencil. I knew what I wanted to create, but I felt held back by the tiny pencil. I grabbed my brushes, some titanium white and ivory black paint…and this seascape unfolded before me. It was the most detailed and true-to-value piece I'd ever done."
A completely self-taught artist, Phillip Anthony was born in California and grew up in a small town in Idaho. Phillip studied film and video production in college, then taught himself to paint after moving to Florida in 1998. The first black and white seascapes hit a chord with collectors when they were first exhibited in 2006. When his first two major gallery shows nearly sold to the walls, he knew he had found his style.
"I discovered that with most seascapes the color determines the mood—reds give off a warm and passionate feeling, while blues are very cool and romantic," says the artist. "With the absence of color, the viewer determines the feeling of the piece. If the image reminds them of a sunrise, then they project the warm feelings from the memory they're thinking of. Someone else looking at the same piece might revisit a memory of the moon rising, and feel the cool night air. It allows every individual to become part of the creation process by projecting their memories and experiences into the artwork."
Seascapes, like the beach itself, have a universal appeal, and are also central to the artist's message. "Being at the beach, getting away from the daily rat race and life's distractions, you see that there's so much more out there. It puts everything back into perspective for me. There's a calming peace that comes with that perspective, and that's what I try to capture and share."

View New Releases, Original Art, Limited Editions, Limited Edition Florals, Limited Edition in Color
---
New Releases
---
Original Art
---
Limited Editions
---
Limited Edition Florals
---
Limited Edition in Color