Disney Fine Art

Disney Fine Art
Disney Fine Art takes you back to the colorful worlds of imagination created by Walt Disney Studios. The characters have the unique ability to establish an emotional connection with multiple generations of art collectors. From children of the 1930's who experienced The Mickey Mouse Club in their local movie theaters, to a generation of baby boomer "Mouseketeers" who have passed their love for Disney on to their children and grandchildren of today. It is without question that the world has never before seen such a deeply rooted appreciation and enduring love for "cartoon characters" than what our culture has experienced through Disney stories and imagery. Artifacts is proud to be an authorized Disney Fine Art Gallery. By doing so, we are a small part of the historic cultural phenomenon that Disney artwork has created over the course of the last 80 years.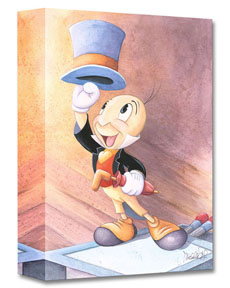 Through the artistry of Walt's imagination, Disney Fine Art have found a special place in our hearts. As we step into the wonderland of Disney Fine Art, our most beloved fantasies come to life. New releases and classic images will bring that innocent joy to your home. It is no wonder that Disney Fine Art is sought after by collectors throughout the world. Each remarkable piece of artwork represents a precious moment of film fantasy, humor or adventure which can be brought home to enjoy again and again.
Artifacts Gallery is excited to offer these wonderful pieces to our collectors. Shipping is available anywhere in the world and we offer the best pricing in the industry.



View New Releases, Limited Editions, Animation Art, Treasures on Canvas
---
New Releases
---
Limited Editions
---
Animation Art
---
Treasures on Canvas