Release Your Brakes and Hunt for Heaven
Low Inventory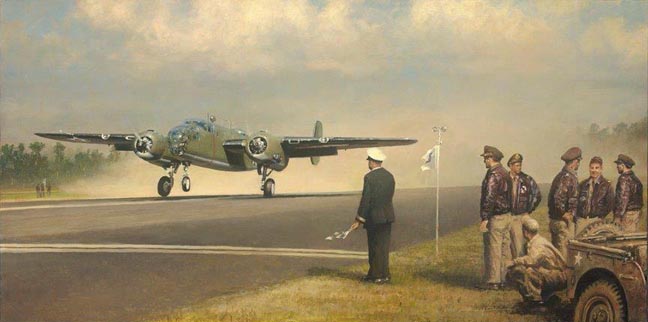 "Release Your Brakes and Hunt for Heaven" by William Phillips
Signed Limited Edition Giclee on Canvas, Unframed
Image Size: 28 X 14 in.
Edition Size: 75
"They came from our secret base at Shangri-la," President Roosevelt claimed of Doolittle's "land-based" B-25 bombers that attacked Japan on April 18, 1942. It is common knowledge today that they flew from the deck of the carrier USS Hornet. However, back then, the idea of a fully laden, twin-engine bomber taking off in less than 500 feet was just as much a surprise to the Japanese as it was just to the US airmen whose job it would be to fly the mission.
Beginning 1 March 1942, in preparation for the famous Doolittle Raid on Tokyo, twenty-four crews were selected to pick up modified B-25 bombers in Minneapolis and fly them to Eglin Field, Florida. There the crews received intensive training for three weeks in simulated carrier deck takeoffs, low-level and night flying, low-altitude bombing and over-water navigation, primarily out of Wagner Field, Auxiliary Field 1.
Here William Phillips' "Release Your Brakes and Hunt for Heaven" depicts Lieutenant Henry Miller, USN, from nearby Naval Air Station Pensacola supervising the training which would prepare the crews for their carrier take-offs. Airmen were instructed to "drop the landing flaps, pour on the coal and pull-up on the yoke." None of the assembled volunteers would have ever guessed that in just under two months, sixteen B-25's, loaded to 31,000 lbs – a ton greater than its designed maximum load – would claw their way into the air in less than 300 feet from a carrier off the hostile shores of Japan.
---