Hunter Becomes the Hunted, The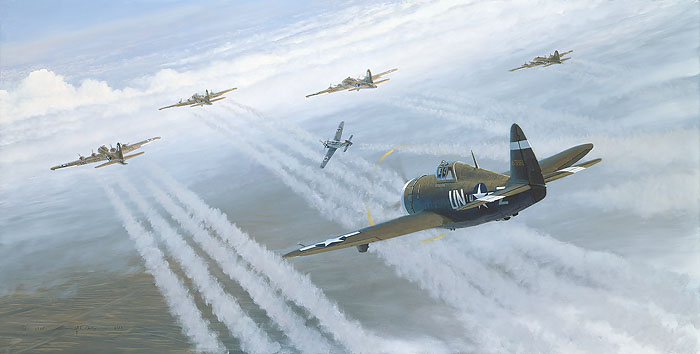 Hunter Becomes the Hunted, The
$ 495.00
Add To Cart
"The Hunter Becomes the Hunted" by Willam Phillips
Signed Limited Anniversary Edition Giclee on Canvas, Unframed
Image Size: 32 X 16 in.
Edition Size: not to exceed 75
The Hunter becomes the Hunted (Masterwork)
$ 995.00
Add To Cart
Signed Limited Masterwork Anniversary Edition Giclee on Canvas, Unframed
Image Size: 48 X 24 in.
Edition Size: not to exceed 15
The arrival of Colonel Hub Zemke and his "Wolf Pack" P-47 Thunderbolts turns the tide and the fates of war on a Fw-190 attacking the B-17's of the 100th Bomb group of Nazi Germany. This Phillips aviation art classic is finally available as an Anniversary Edition, and for a select few, as a very limited and very stunning, oversize MasterWork™ Fine Art Canvas.
---