Delicacy
Two In Stock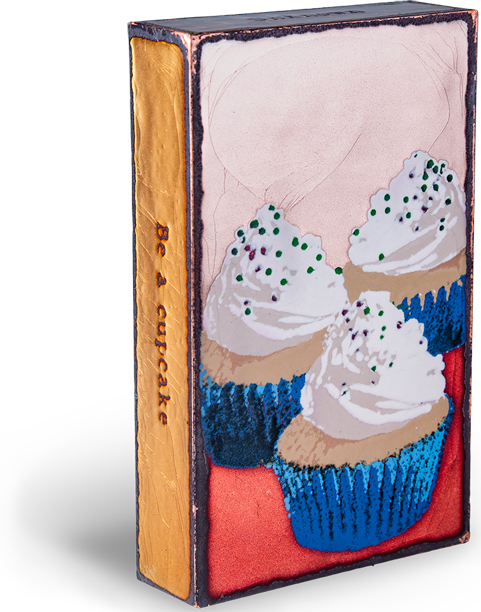 $ 149.00
(Free Shipping)
Add To Cart
"Delicacy" by Houston Llew
Item #241
Molten Glass on Copper Tile
Tile Size: 5.25 X 1.75 X 8.5 in.
Quote on Spiritile: "Be a cupcake in a world full of muffins" - Unknown
A little secret: Houston's favorite type of cake is cupcake! With his birthday in October, fall becomes the season of cupcakes. One year, he received a giant cupcake-cake at the studio for his birthday, but most years be gets boxes of different delicious flavors. Such a dedication to cake in miniature expresses his artistic zeal: that in a world where muffins abound, the artist steps up and says, "How about cupcakes instead?"
Spiritiles are molten glass on copper art collectibles that capture the spirit of the enlightened moment. Handcrafted in the U.S.A., Spiritiles bring luminous imagery to life and share timeless ideas on their golden sides.
Spiritiles easily wall hang or stand alone. These wonderful artworks will never fade or tarnish and may be enjoyed in sunny or humid spots where other art may not endure.
---