Incandescent
One In Stock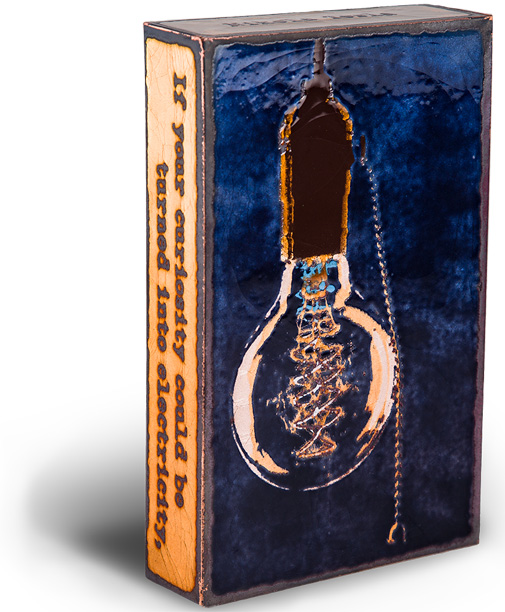 $ 149.00
(Free Shipping)
Add To Cart
"Incandescent" by Houston Llew
Item #232
Molten Glass on Copper Tile
Tile Size: 5.25 X 1.75 X 8.5 in.
Quote on Spiritile: "If your curiosity could be turned into electricity, it would light up the whole world"-Nikola Tesla
"During the span of his life, Nikola Tesla's inquisitiveness and seemingly harebrained ideas lead to inventions that preceded historical expectations. In the late 19th Century, Tesla devised the initial inventions of radio, radar, x-rays, hydroelectric power, among many more. His dedication to discovery was unparalleled. He solved problems before we as a society knew they existed. A man out of time, he was the embodiment of an inventor looking to create for the betterment of the world, rather than the enrichment of his pocket. Now, in this age of entrepreneurship and self-dedication, we can benefit from his inventions, and become inspired by the noble principles of this tenacious pioneer."
Spiritiles are molten glass on copper art collectibles that capture the spirit of the enlightened moment. Handcrafted in the U.S.A., Spiritiles bring luminous imagery to life and share timeless ideas on their golden sides.
Spiritiles easily wall hang or stand alone. These wonderful artworks will never fade or tarnish and may be enjoyed in sunny or humid spots where other art may not endure.
---