"American Heroes" by Houston Llew
Item #251
Molten Glass on Copper Tile
Tile Size: 5.25 X 1.75 X 8.5 in.
Quote on Spiritile: "Never was so much owed by so many to so few." - Winston Churhill
Each American Heroes Spiritile purchased from now through Labor Day 2020 will have a special 'thank you' message from Houston sealed on the reverse side. **Only those American Heroes purchased during this time period will have the message.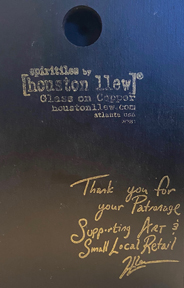 Spiritiles are molten glass on copper art collectibles that capture the spirit of the enlightened moment. Handcrafted in the U.S.A., Spiritiles bring luminous imagery to life and share timeless ideas on their golden sides.
Spiritiles easily wall hang or stand alone. These wonderful artworks will never fade or tarnish and may be enjoyed in sunny or humid spots where other art may not endure.