Long Ride Home, The
Low Inventory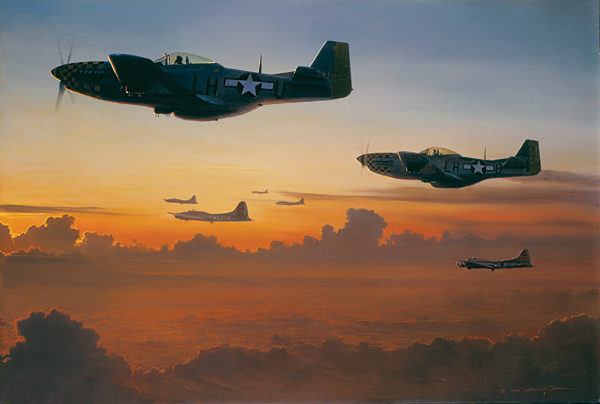 "The Long Ride Home" by William Phillips
Signed Limited Anniversary Edition Giclee on Canvas, Unframed
Image Size: 31 X 21 in.
Edition Size: Not to Exceed 150
By late-1944, the Allies controlled the skies over the newly liberated countries of Western Europe. But when the bombers of the mighty Eighth Air Force ventured into the heart of Nazi Germany, few missions proceeded without their fighter escorts close at hand. Now, for only a short time, the classic William S. Phillips homage to the bond between the Flying Fortresses and their "Little Friends" is available as a Greenwich Workshop Anniversary Edition.
The Long Ride Home features the P51-D Mustang Betty-E piloted by Lieutenant Colonel Wayne Blickenstaff of the 350th Fighter Squadron/353rd Fighter Group. "Ramrod" was the code word that designated these escort missions. Blickenstaff became a double ace during the war, incredibly shooting down five of those ten enemy aircraft in a single mission to become an Ace in a day. By the war's end, Blickenstaff would receive the Distinguished Service Cross, the Silver Star, the Distinguished Flying Cross with three oak leaf clusters and the Air Medal with seven oak leaf clusters. The 353rd would be credited with destroying 330.5 enemy aircraft in the air and another 414 on the ground. These were the "Little Friends" you wanted around when the going got tough.
A raid into Germany meant a long day and a long mission. It was a grueling, intense and deadly endeavor that was not without its moments of serenity, beauty and a comradeship known only to men at war. The men are tired, and some in this armada may be wounded. Soon, with what little light there is left in the day, the groups will separate and return to their bases for debriefing and rest following The Long Ride Home.
---