Lil Rascal by Frogman
Not Available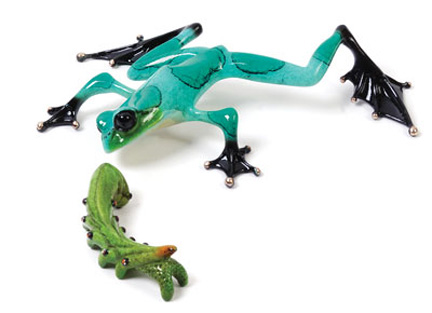 $ Call

Lil Rascal by Tim Cotterill
BF 113B
Signed Limited Edition Bronze
Year Released: 2008 Platinum Frog
Sculpture Size: 1.25 X 7 X 7.25 in.
Caterpillar Size: .75 X 3.25 X 1.25 in.
Edition Size: 500
Tim was inspired by a visitor to his studio garden--a large and colorful tomato worm--to create this fun sculpture.
Two-piece set includes an inquisitive frog and a matching numbered caterpillar. Also available in green: "Lil Prince".
Looking for unique one of a kind display ideas? "Lil Rascal" fits on a Large Glass Lily Pad. See Display Accessories Section.
---