Ill Hold You in My Dreams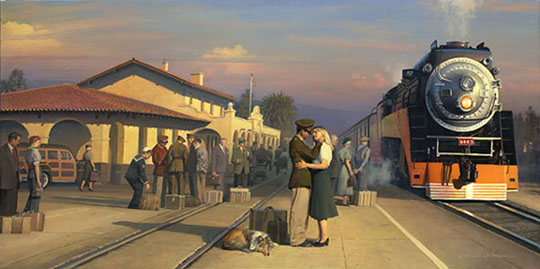 Ill Hold You in My Dreams
$ 1,250.00
Add To Cart
Signed Limited Edition Masterwork Giclee on Canvas, Unframed
Image Size: 48 X 24
Edition Size: 75
Ill Hold You in My Dreams (Canvas)
$ 595.00
Add To Cart
Signed Limited Edition Giclee on Canvas, Unframed
Image Size: 30 X 15
Edition Size: 250
The American Homefront Series, an episodic look at home during World War II, comprises some of William S. Phillips' most popular and sought-after works: If Only In My Dreams (1942); A Christmas Leave, When Dreams Come True (1943); Summer of '45: And All Creation Rejoiced (1945) and The Dream Fulfilled, Where the Love Light Shines (1945).
The only "war year" Phillips missed from the series was 1944 and with I´ll Hold You in My Dreams, Phillips' first American Homefront painting in over ten years, each year of WWII will be honored.
In this final painting, the focus of the story shifts to the West Coast where our young aviator departs from Santa Barbara, bound for San Francisco and a ship that will take him to war in the Pacific. Young soldiers departing in 1944 had a tough road ahead of them—some of the worst battles of the war were yet to come and there seemed to be no end to the fighting in sight—but they held their heads high as they bid their families farewell.
In the rush to transport troops to the Pacific via the West Coast, passenger trains such as the Southern Pacific "Daylight" locomotives were repurposed, and many a soldier found himself kissing his loved ones goodbye as a "Daylight" steam train pulled into the station.
---