Pebbles, Green by Frogman
Retired 9/28/07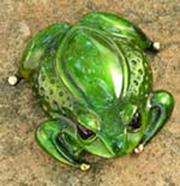 $ Call

BF 92
Signed Limited Edition Bronze
Year Released: 2006
Sculpture Size: 2.5 X 2.5 X 1 in.
Edition Size: 500 in each color for a total of 2000 pieces
"Green Pebbles" is an adorable little fellow with a premium silver nitrate patina and a uniquely stylized design. If you like a frog with substance who's not afraid to throw his weight around, "Pebbles" is your frog!
Retired as of September 28, 2007
Looking for unique one of a kind display ideas? "Pebbles" fits on a Small Glass Lily Pad. See Display Accessories Section.
---