Catch Dat Brees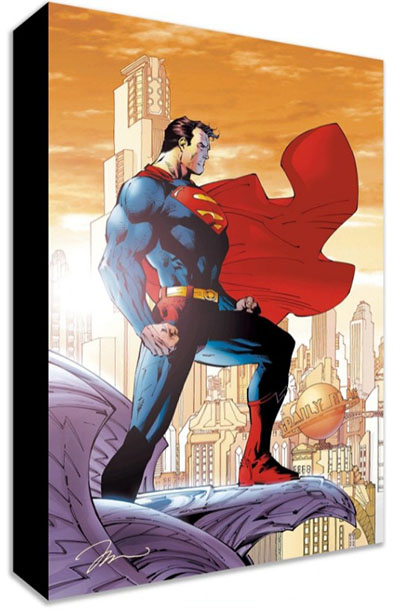 "Catch Dat Brees"
Signed Limited Edition Hand-Painted Cel, Unframed
Image Size: 20 X 16.5 in.
Edition Size: 500
CC1272
Considering his resent win against the San Francisco 49ers it seems like the perfect time to present this special offer...a unique limited edition hand-painted cel featuring Drew Brees of the New Orleans Saints. Read a letter from Drew below!
This image was originally created as an exclusive edition to help raise money for the Brees Dream Foundation and celebrates the fact that Drew is only the second person in NFL history to surpass the 5,000 yard passing threshold in a single season. Of course, Drew and his team went on to have a stellar season and win the Super Bowl XLIV Championship. Drew, who is beloved by his team and fans alike was awarded the MVP title. We recently had the thrilling opportunity to get Drew to add his Superbowl MVP title to his signature for this special release.
The original character animation was created by noted WB Animation Director, Darrell Van Citters who drew the iconic Bugs Bunny, a.k.a. Billy Miller (#83), to be the one to "catch dat Brees" for this historic pass. It all comes together in the Acme Dome, the home field of the Looney Tunes, featuring their quarterback, Drew Brees.
This very special limited edition, Catch Dat Brees, is raising funds for The Brees Dream Foundation. For every hand-painted cel sold to galleries, $300 will be contributed to the Foundation for their ongoing efforts in Louisiana.
Shipping in October
Saints Fans,
I am honored to be featured in a Warner Bros. animated fine art limited edition. This limited edition, called "Catch Dat Brees", features the famous Looney Tunes characters commemorating our memorable 5,000 yards plus passing season.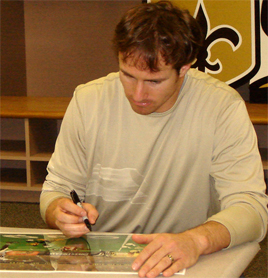 Notice that Bugs Bunny is wearing Billy Miller's number since it was Billy that caught the pass that put us over 5,000 yards. This could not have been accomplished without my teammates, coaches, fans, and of course, the great city of New Orleans.
Join me and my new Looney Tunes friends as we raise funds for the Brees Dream Foundation to support our ongoing efforts in Louisiana.
Thank you for all your continued support!
Who Dat!
Drew Brees
---