Accompaniment to the Symphony of Spring
Low Inventory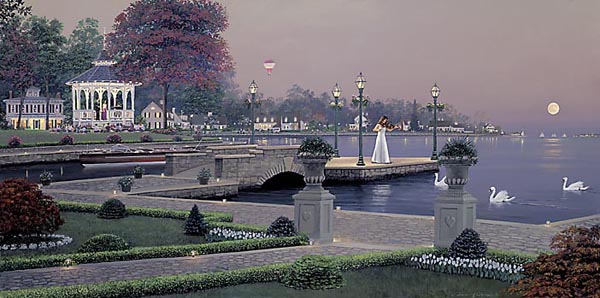 Accompaniment to the Symphony of Spring
Low Inventory
$ 695.00
Add To Cart
"Accompaniment to the Symphony of Spring" by William Phillips
Signed Limited Edition Print on Canvas, Unframed
Image Size: 36 X 17 in.
Edition Size: 550
Accompaniment to the Symphony of Spring(Paper Lithograph)
$ 175.00
Add To Cart
Signed Limited Edition Lithograph, Unframed
Image Size: 30 X 14.375 in.
Edition Size: 750
Spring has arrived in the coastal town of Phillips Bay and so has the annual music festival—one of the most anticipated events of the year. While the audience gathers 'round the gazebo to look and listen while three musicians warm up, the rest of the quartet—a violinist—practices her strings solo. (Perhaps she's a bit nervous?) A magical moment for sure, the longer light of day is still evident as the full moon rises, and the street lamps and walkway lights come on as a lovely overture to the symphony of spring.
---