Home is the Hunter (Canvas)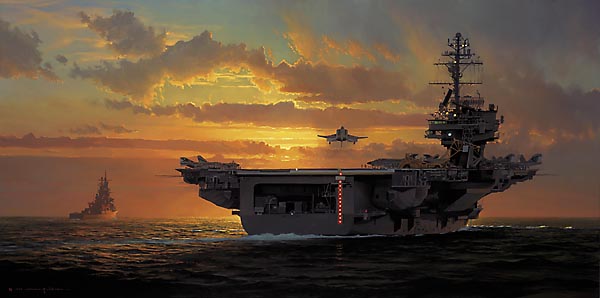 Home is the Hunter (Canvas)
$ Call
Limited Edition Canvas Edition
Edition Size: 75 signed by the artist and consecutively numbered
Stretched Size: 38" x 19"
Home is the Hunter
$ Call
Add To Cart
Limited Edition Paper Lithograph
Edition Size: 550 signed by the artist and consecutively numbered
Image Size: 33" x 16-1/2"
Silhouetted against the setting sun, an F-4 Phantom recovers aboard the
Constellation
… Bill tells us this storied warship was vital to the U.S. efforts throughout the Vietnam conflict. "In the summer of 1964," he says, "the 'Connie' took station off the coast of Vietnam with Air Wing Fourteen aboard. She would be assigned to the area on seven separate occasions, her final deployment concluding with combat operations in August 1973. On July 1st of that year, she and her crew were awarded the Presidential Unit Citation for extraordinary heroism in action during the 1971-72 crisis."
Published from the artist's original oil painting.

---