December of 45
Low Inventory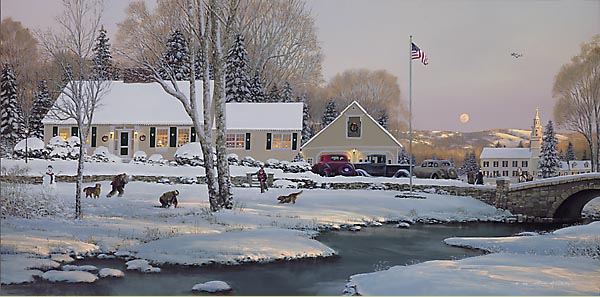 "December of 45" by William Phillips
Signed Limited Edition Lithograph, Unframed
Edition Size: 1500
Image Size: 34 X 18 in.
The Christmas season is a wonderful time of year filled with rich spiritual tradition and an emphasis on giving and gatherings with family and friends.
In "December of '45" I have recreated the wonder of those snowy Christmases that I longed for as a child. The war is over and at last families can gather across the nation in peace. Snowball fights break out and young couples bundle up and walk through a landscape transformed by the touch of winter. In the distance church bells and sleigh bells resound in the crisp air. Bing Crosby sings "White Christmas" on the radio as a warm fire crackles bringing warmth to both the home and the spirit. Smells of a Christmas feast fill the house while children's eyes sparkle in anticipation of what surprises lay among the festive package beneath the tree.
---