Joseph Quillan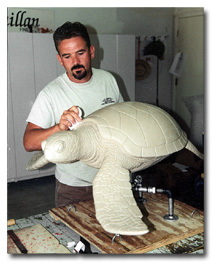 Joseph Quillan Bronze Sculpture
Joseph Quillan is passionate about the animals he sculpts. A lifelong conservationist and environmental activist, Quillen has been in the forefront of marine sculpture and education to foster a better understanding of the sea creatures who share our world. Born in 1956 in Glendale, California, this talented sculptor has been drawing, painting and sculpting animals ever since he could scoop up mud in his hands.
His art career began when he worked at a veterinary clinic and started creating pet portraits for the clients, including some very famous animal lovers such as Bob Barker and Betty White. Joseph attended Pierce College in Los Angeles and took pre-veterinary courses and art courses. The class that changed his life was Advanced Casting, where he crafted and cast his first jewelry and sculpture designs.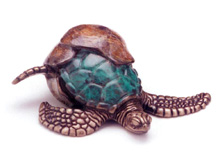 His love of the California coast and the ocean's wildlife inspired these first designs and his first bronze sculptures of marine mammals. Joseph researched the animals extensively and joined organizations that worked to preserve their habitat. A humpback whale sculpture was his first award-winning bronze at the Catalina Festival of Art in 1982.
Since that time the artist has enjoyed a successful career as a wildlife sculptor with hundreds of one-man shows in galleries across the country and a full portfolio of limited edition bronze sculpture, furniture, jewelry and monumental works. The American Cetacean Society invited the artist to design a Humpback Whale necklace for actor James Doohan in "Star Trek IV, the Voyage Home", one of his more unusual commissions!
Sea turtles are one of Joseph Quillen's favorite subjects. That scary, magical moment when they climb forth from the egg and race toward the sea is one he has depicted in many bronze sculptures. A dedicated environmental educator, Quillen spends countless hours each year devoted to causes that help preserve the ocean for the creatures he loves.
Joseph Quillen works at his studio in Temecula, California.



View New Releases, Sculpture
---
New Releases
Click on an image to see pricing, size and description of art
---
Sculpture
Click on an image to see pricing, size and description of art